There are 3 water parks in Mallorca: Hidropark in Alcudia, Aqualand in Arenal and Western Park in Magaluf. The smallest of the three is Hidropark in Alcudia. The largest is Aqualand in Arenal.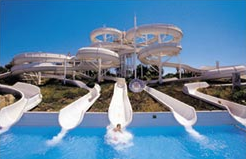 At Hidropark, there are several exciting rides, but at Aqualand and Western Park there are many more, also larger ones. It is possible at all three parks to purchase snacks and drinks.
Hidropark and Aqualand both have wave pools. At Western Park there is The Beast, a slide which is 30 metres above the ground.